Kathmandu is a feast for the senses. We stayed in the typical backpacker area called Thamel. It is full of places ready to part you and your money. T-shirts, knock-off versions of expensive outerwear, trekking tours, books, teas & spices, incense; whatever you are looking for, it is here.


Thamel at night: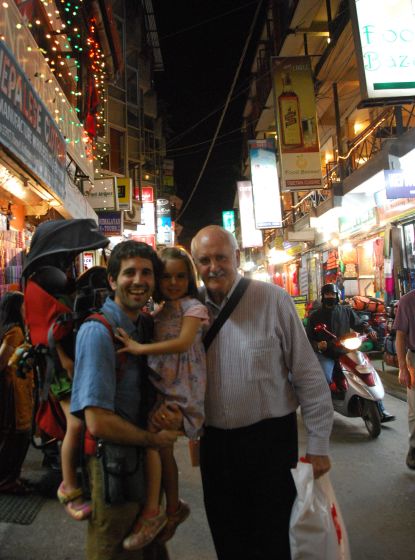 What a crazy place:


There are many, many restaurants to choose from in Kathmandu. We had delicious Thai, Italian, Nepalese, Indian and Mexican food. The desserts weren't half bad either…


We went to see Nepal's largest Buddhist Stupa, Boudhanath. A stupa is a mound-like structure containing Buddhist relics, typically the remains of a Buddha or saint. Who is entombed underneath this one has been historically a topic of much debate. It is one of the most holy sites for Buddhists nonetheless. It is surrounded by over 1000 prayer wheels that religious devotees circumnavigate in a clockwise direction rotating each one.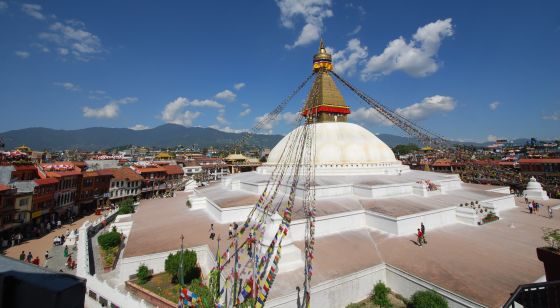 A close-up of the 'wise eyes', as Emily calls them (from the book, Ping):


After that we went to a Hindu holy site, Pashupatinath Temple. It is the one of the largest Hindu temples of Lord Shiva in the world located on the banks of the Bagmati River. This river is considered very holy since it flows into the Ganges in India. There is a cremation site on the banks of the river and the deceased are floated down to the awaiting fires on their final journey.


Hindu holy men, or Sadhu:


This one was very flexible:


Hindu widows that did not have children in their marriage end up as Holy ladies:


The next day we visited the ancient city of Bodhnaranth. This was a stop on the old spice and tea trading route between Tibet and India. There is a palace built by King Jitamitra Malla, and various Temples. This king was very vain and jealous. The following beautiful stone carving was so beautiful that the king ordered the artisan's hands cut off so that he could not create another masterpiece for anyone else. Talk about ingratitude!


The cobras surrounding the king's outdoor bathing pool, to protect him from evil spirits:


Here are a few of the beautiful buildings:

4 Comments to