We were absolutely blessed by good weather on our trip. The few days at Everest were no exception. As we neared, the clouds kept clearing and by the time we arrived they had mostly vanished. We took the mini-bus up the 8km road up the moraine to the base camp proper. From a small hill we had commanding views of Everest and the surrounding area. The air was quite thin at 5150m and even the hill made us somewhat breathless. Apparently it doesn't slow you down if you're 3 or 5, they were running around as usual.
Girls at Everest


Emily, Maddie and their Pops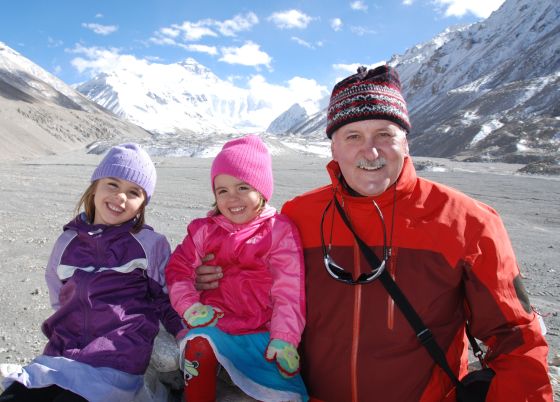 Girls and Simon


After our time at the base camp, we made it back to our accomodation, among the nomadic yak tents. Heated by a yak dung stove it was quite cozy. And no, there is no smell associated with the stove inside, it has been 'aged and dried' for at least a year so is just organic matter. We had a delicious meal prepared by the hut owner accompanied by our first taste of Tibetan butter tea. This is a tea made of yak butter which is quite salty. I did not care much for it but Simon and David were big fans.


I snuck out of the wamth of the tent before bed and took one more photo on the moonlit night.


Snuggled in our beds, warm even when it went down to -15 that night.


We awoke to a crystal clear morning, and unfortunately myself to nausea and a blinding headache. We packed up to leave on schedule and before I got any worse. It was an awesome trip to the roof of the world.

5 Comments to