Our next adventure was a 46 hour train ride from Chengdu to Lhasa, Tibet. We travelled in relative comfort, in a self-contained cabin with 4 beds. They are called the 'soft sleepers' but soft is NOT how I would describe the beds. The train ran along the recently completed world's highest railway line, at a cost of 4.1 billion USD. The Chinese government certainly has some cash to spend. During the last 24 hours the train elevation averaged about 3800m, topping out at 5070m. During this section the train has supplemental oxygen piped into the cars, but not enough to prevent the usual headache. There were several interesting travellers in our train car, and we spent some time chatting with them in the dining car. We were the only foreigners who had any sort of ability to speak Chinese, so we were asked to help with meal ordering by many of the others. Amazing how even a 30-50-word vocabulary can be immensely valuable.


The landscape that we passed through was breathtaking. It began as desert-like peaks, similar to Kamloops, BC but larger, then we climbed up to the wide-open plateau with short grasses and turquoise lakes.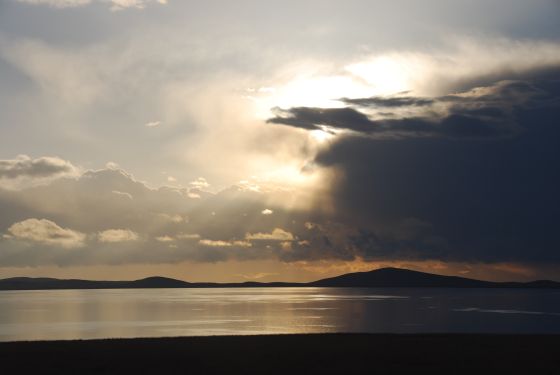 Climbing even higher brought us through a rugged, forbidding landscape; high winds, ever-present snow and little vegetation. Throughout the train ride were tiny settlements, where people eke out a living with their cattle, yaks and sheep.


Descending down towards Lhasa we arrived back in the treeline. The settlements turned into small villages and agriculture supplemented the livestock.


Arriving in Lhasa, we were warmly greeted by our Tibetan guide, Pema, and our driver, Loksam and our shiny new Mercedes van. Looks like our overland tour is going to be pretty comfy!

3 Comments to