There was a whole lot of Halloween-ness at the Hunt household this year. It began with a party for the grownups on Saturday night. Simon's band, the Sofa Kings, played to an enthusiastic crowd, who came out well-dressed and ready to dance! The drummer's eye view, pre-party:
We make a cute couple, don't you think?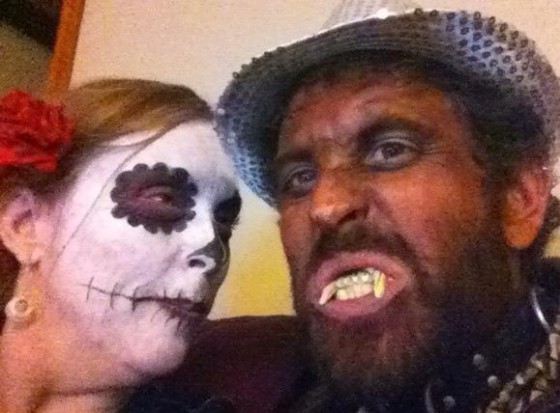 On Monday night there was a family event at the Community Centre with a haunted house that Maddie said, "Wasn't even scary at all". Her sister thought otherwise.
The next night both girls got dressed up again for their Sparks and Brownies parties.
And finally it was the big day, the girls shot out of bed like never before. They wore their costumes all day; so did Simon and I. Apparently he scared a few folks at work.
Below, Maddie, the vampire cowgirl, is wearing her grandfather's cowhide vest and chaps, which he wore as a little boy. This is paired with her dad's kangaroo-leather Aussie cowboy hat.