We've spent our last week in Thailand in the capital city of Bangkok. It is yet another busy, loud, kinda dirty Asian city. Oh I sound so jaded, don't I? Well cities are not really my thing so I guess I am biased. There are, however, a few beautiful sights to see while in Bangkok, and the dining is great!
We went on a sundown dinner cruise on a traditional Thai boat one night.


The food was forgettable but the sights were beautiful.
The Chao Phraya river is definitely the busiest river waterway I've laid eyes on. Long express boats zipping up and down, leaving you mere seconds to get on or off; larger long-distance ferry boats; cute little touristy boats to cross the river from one chi-chi hotel to the next; long, long barges barely floating under their loads; and traditional long-tail boats with their deafening motors and funny outrigger-like propellor shafts.
Sundown view of Wat Arun, the 'Temple of Dawn'. Guess we got it wrong by about 12 hours…


When you live in a busy city with gridlocked traffic, a motorcycle is really the only way to get around. You have to adapt if you want to bring along your favouite furry friend:


Today we spent the afternoon at the Wat Phra Kaew and the Grand Palace. Impressive. The Thais sure know how to dress up a building!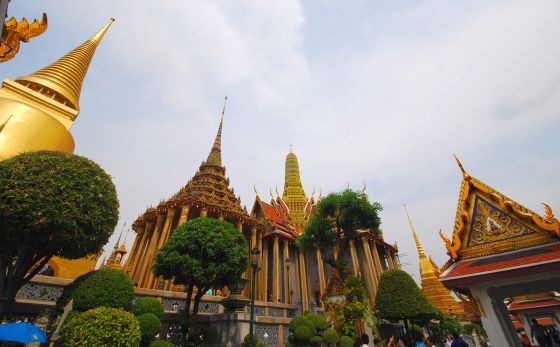 This guy was all over the place on the many murals, he is one scary dude:


After we left the palace grounds we walked along the street for a while. We found that even monks need DVDs!


And, as a final image from Thailand, our little Madeline Lily and her sister among the much-revered water lilies…