After Kuala Lumpur we flew into Krabi for the beginning of our Thai vacation. Since we had a spare week before Phuket we decided to go to the remote island of Koh Jum. We took a 40 minute longboat ferry to the island which was a new adventure for the girls.


We stayed at the Oon-Lee Resort, a beautiful place owned by a Thai/French couple Oon and Valerie. It was recommended by our friends Richard and Kim and we pass on the high praises to anyone else. They have built 9 bungalows set in the jungle with beautiful gardens throughout.


With a Thai chef and French influences the food there was also amazing; a step above.


Our bartender, Enda from Ireland, was always good for a chat and a cold beverage.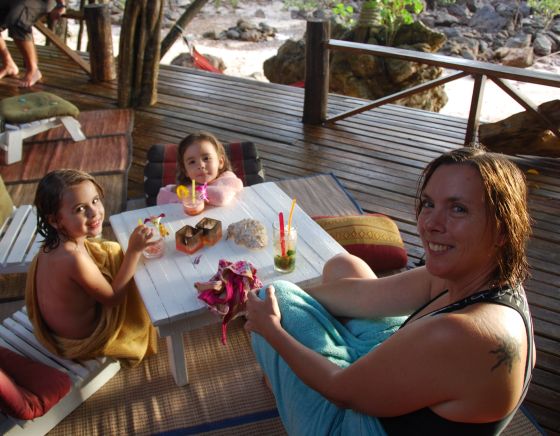 We had many days on the beach with turquoise waters and white sand. We hiked to 'Magic Beach' and had the whole place to ourselves one afternoon. Maddie loves being buried in the sand, as you can see.


Simon went deep sea fishing with Oon one day, no big fish but lots of smaller ones were caught. The kitchen staff made a wonderful fish ceviche appetizer for all with some of the catch that night.
We both had our first Thai massage which was very luxurious, and only $12 for 80 minutes. I needed it because our bungalow was up the equivalent of 6 flights of stairs.


I really enjoyed our week 'unplugged' from society, relaxing in a hammock or playing in the sand on the beach. It hardly gets any better than that…